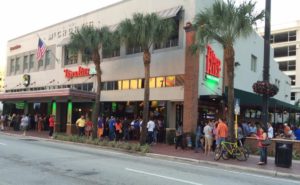 Fort Lauderdale Accident Injury Attorney
Fort Lauderdale is one of the most vibrant and exciting communities in all of Florida. With it's world-famous beach life and dynamic nightlife beckoning, the population of the Ft. Laud / Broward metro area is climbing to an estimated 1,882,186 in 2016.
Despite all of the truly wonderful aspects of Fort Lauderdale, because of all the car traffic on I-95 the texting, the partying and the busy lifestyle in general, every year residents and visitors alike end up victims of accidents and suffer injuries of different types caused by the negligence of someone else. In fact, there were approximately 38 vehicle crashes per day in the Fort Lauderdale area in 2012 ( the most recent year car accident statistics are available ).
As a boutique law practice, The Law Firm of Joseph P. Wagoner, P.A. based in downtown Fort Lauderdale focuses our practice on the unique needs thosesuffering injury because of someone else's negligence. We fight to ensure justice for each and every client and to help them obtain the financial compensation to which he or she is entitled. Meet Joe and learn more about his background in fighting for justice for people like you!
Joseph P. Wagoner, P.A. represents people in a variety of cases, including:
Motor Vehicle Accident Injury Cases
Hundreds of people are injured in car, truck, motorcycle and boat accidents in and around Fort Lauderdale each year. Located at in the heart of the city at One East Broward Blvd. Fort Lauderdale, FL 33301, our personal injury firm has extensive experience in fighting for clients to ensure they obtain full compensation for their injuries and losses. This typically includes compensation for pain and suffering, medical bills, lost wages, emotional distress, property damage, and other losses.
Other Personal Injury Cases
Joseph P. Wagoner, P.A. accident lawyers represents clients in other types of personal injury cases from slip and fall to worker's compensation, from motorcycle accidents to wrongful death.
Insurance Disputes
Insurance companies are in business for one primary reason. Insurance companies operate to make money for their shareholders. Insurance company profits increase as claim payments decrease.
Injury lawyer Joseph P. Wagoner, P.A. and his team understands how to utilize effective tactics to take on even the most obstinate insurance company. With extensive experience, the legal team at The Law Firm of Joseph P. Wagoner, P.A. has an established track record for successfully settling even the most complicated insurance disputes on behalf of clients.
Wrongful Death Cases
The loss of a family member because of the negligence of someone else is devastating. The accident injury Law Firm of Joseph P. Wagoner, P.A. represents spouses, children, parents, and other family members who have lost loved ones in accidents in and around the Fort Lauderdale, Florida area.