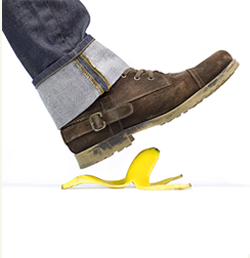 Slip, Trip and Fall Accidents
Slip and fall injuries can have devastating consequences on your quality of life. While the injuries may not seem severe to the untrained eye, debilitating and persistent slip, trip and fall injuries require ongoing rehabilitative care. This can result in lost wages, expensive medical bills, your inability to work, etc.
Attorney Joe Wagoner of Wilton Manors and Fort Lauderdale has represented numerous clients in the community who have been victims of premise liability (slip and fall) accidents. And while every case is different, Joe has helped our clients obtain substantial compensation for their medical bills, lost wages, pain and suffering.
If an owner has acted negligently while you were on their property, they may be held liable for your injuries. But, litigating a slip, trip and fall accident successfully is a task best left to an experienced attorney like Joseph Wagoner. Joe's goal in handling premise liability cases is always to demonstrate one of the following:
That the owner knew their property suffered an unsafe condition but failed to correct it.
That the owner should have known there was a danger in their property because any reasonable person would have known there was one—and would have corrected the unsafe condition.
That the owner (or whomever was responsible for maintaining the property) caused the dangerous condition, which subsequently led to the slip and fall accident.
Joseph Wagoner has an impressive track record on slip, trip and fall cases, recovering significant settlements on behalf of his clients. He has the experience and drive necessary to obtain the compensation you deserve in your case. If you live in the Fort Lauderdale or Wilton Manors area, you owe it to yourself to speak Joe, a longtime member of the community who takes great pride in helping people find justice.